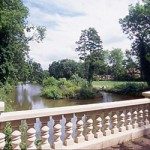 Newent Lake and Park   
Town centre car park, Newent    -  
Also accessible from St Mary's Church, Newent Lake is the jewel of the town. Originally part of the Newent Court estate after being constructed by medieval monks for fish ponds, this large picturesque lake lay abandoned for several decades. Set in the beautiful surroundings of a park with many trees and shrubs the lake is one of the areas most attractive leisure spots and is a haven for wildlife.  Completely re-landscaped in 1998, with walks, a new fountain and restocked with fish, the lake now forms the centrepiece of the town.  Picnic tables available, plus play areas for children.  The stage area in front of the balustrade is used regularly for community events.  At the far end of the lake part of the former Herefordshire and Gloucestershire canal can be seen.  Tel: 01531 820638
This beautiful hill is located just 2 miles south of Newent by the village of Clifford's Mesne (Meen). It boasts a magnificent wood on its peak of approximately 100 trees, planted for Queen Victoria's Golden Jubilee in 1887, which can be seen clearly from over 50 miles away.
The views from the hill (971ft)  are outstanding and on a clear day it is possible to see between 7 to 12 counties from the peak including stretches of the River Severn, Malvern Hills and the Welsh mountains.  Tel: 01531 822345  http://www.longhopevillage.co.uk/History/MayHill/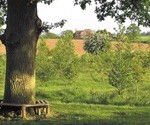 Newent Arboretum   Bradfords Lane, Newent
This inspired project to populate one of Newent's largest open spaces with 1000 new trees was undertaken by the town's Millennium trust. There is a dedicated car park on the corner of Bradfords Lane for the Arboretum, however spaces are limited.
Disabled access for scooter users is available using a RADAR key. A gravel path now links Bradfords Lane car park with Watery Lane and provides year-round access for all. The Watery Lane entrance is almost opposite the Community School. Parking is possible along Watery Lane but please park carefully and with respect for local residents and the school, which needs access for buses during weekdays. 1. Enter at the main entrance in Bradfords Lane, or
2. Through the gate on Watery Lane. GL18 1QE
The site has an open aspect and the routes are easily followed from both entrances. There are benches and it is an ideal site for a picnic.
The summer months are the best time to see the huge variety of young trees in full splendour. Take a picnic and enjoy the peace.  Tel: 01531 820638  www.newenttowncouncil.org.uk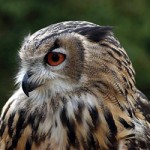 International Centre for Birds of Prey
Nr Clifford's Mesne, Newent (follow the brown tourist signs from Newent)
The world famous International Centre for Birds of Prey is located on the outskirts of Newent and features over 350 birds of prey including Hawks, Vultures, Sea Eagles, Kites and Buzzards. Ring or see website for details of flying demonstrations. Run by Jemima Parry-Jones MBE.
Beautiful gardens and and a large mown field offer an ideal location to enjoy picnics and refreshments from the on site coffee shop and pavilion. Includes play area, activity room and woodland walks with special events. Open daily from 1st Feb to 30th Nov.
Tel: 01531 820286 / 01531 821581    Email: jpj@icbp.org     Website: www.icbp.org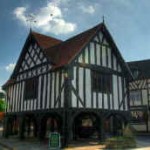 Heritage Exhibition
Market House, Broad Street, Newent:-  Local history display in the setting of the fully restored Market Hall dating from 1668. Built as a butter market it is located at the town's original crossroad. Later expanding to include livestock, etc.  The under-beams carry the signature of the Dutch builder, a ball and flute.  It has been used as a fire station when sides and doors were added, manned by volunteers. Now used for Council, Onion Fayre and other organisations meetings.
See the development of Newent as a market town and how events and industry has shaped the towns for 3000 years .  How the town played an important part to trade, with canal, railway and more recently roads  linking Gloucestershire and the west of the country.  Open Sunday  and Saturday afternoons throughout the summer and by special arrangement.    Tel: 01531 820638 or 821904 for details
Gold Post Box Church Street, Newent
To celebrate every Team GB London Olympic Gold Medals, Royal Mail painted some of its red post boxes gold in the Olympic Gold Medalist's home towns.  One can be found in Newent, outside the Post Office to celebrate Charlotte Dujardin winning Olympic Gold in the individual equestrian dressage event on her horse Valegro. She also won a Gold as a member of the team dressage event.  Charlotte who lives and trains in Newent also appeared on specially made stamps commemorating the achievements of our gold medal winning Olympians. 
Charlotte Dujardin became the second British woman to win three Olympic gold medals by retaining her individual dressage title in Rio 2016 again on Valegro .
THE SHAMBLES – Off Church Street – is now the home to a selection of individual interesting shops and art gallery set around a secret courtyard.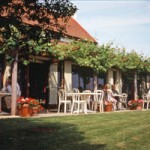 Three Choirs Vineyard   Ledbury Road, Newent
Vineyards, restaurant and eight en-suite guest rooms for visitors. The vineyard provides a great day out with the opportunity of using the excellent guest accommodation as a base for visiting the area. Five star AA and ETB rated   Tel: 01531 890223   Website: www.threechoirs.com

Three Shires Garden Centre   Ledbury Road, Newent
One of Gloucestershire's leading garden and leisure retail outlets. The centre includes a restaurant, lakeside cafe and play facilities for children. Tropical plants and aquatic centre add to this very popular destination.   Tel: 01531 820941   Website: www.3shiresgardencentre.co.uk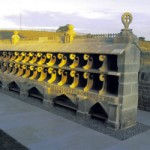 St. Mary the Virgin Church and the Bee Shelter  Hartpury
www.hartpuryheritage.org.uk.   Steeped in history this church has an interesting past. Set in the beautiful peaceful village next to Hartpury Court and Tythe Barn. Hartpury originally had more importance than Gloucester as a trading centre in Celtic times.
The bee shelter is the only one in existence in the world. It is an ornate stone structure 25ft long set in Hartpury's churchyard. A must see for bee keepers. The picture shows the Bee Shelter built in the garden of a house in Nailsworth in the mid 18th century. Threatened with destruction in 1968, it was rescued and restored and given to the Hartpury Historic Buildings Trust who brought it from Hartpury Agricultural College to a spot near Hartpury church. It was built to house and protect 33 straw beehives.
Kempley  :  The village of Kempley can be found West of Newent, and is surrounded by unspoilt countryside. Kempley has two churches, St. Mary's dates back to Norman times and because of the great historic value of the 12th century frescoes inside it is now managed by English Heritage, and the Courtauld Institute have recently taken on the task of preserving these relics. St. Edward's Church dates back to 1903 and was designed by Randall Wells during the Arts and Crafts movement. John Betjamin described St. Edward's as "a miniature cathedral of the Arts and Crafts Movement"  www.english-heritage.org.uk/visit/places/st-marys-church-kempley/ 
St Mary's Church is Norman in origin, believed to have been built between 1095 and 1100, by Hugh de Lacy, son of a Norman baron, Walter de Lacy, of Lassy in Normandy, and on the site of an older Saxon Church.   St Mary's was Kempley's parish church until the village moved to higher ground, where a new church was built.  The exterior is beautifully simple, except for a timber-framed porch. Though this is attractive, it obscures a Norman tympanum (the semi-circular bit above the door, decorated with carvings).
The Kempley Tardis website is project which documents the narrative heritage of the two landmark churches that lie within the parish. It's objective is to motivate web-users to visit the area with an informed appreciation of the village, its environment and its heritage. You can find out more about the project and download all the daffodil and poet walks.  www.daffs.org.uk/
Dymock ;  www.dymock.org.uk  –  home of Wallace and Gromit's Stinking Bishop cheese Dymock boasts some fine old brick buildings, including the White House and the Old Rectory near the church, and outside the village, the Old Grange, which incorporates the remains of the Cistercian Flaxley Abbey. At the heart of the village is the early Norman Church of St Mary, whose unusual collection of artefacts and memorabilia includes the last ticket issued at Dymock station, in 1959.  The area around Dymock is renowned for it's wild daffodils and the local parishes arrange walking tours of the daffodil fields.  www.dymock.org.uk/active/daffs.asp
In the years before World War I, Dymock became the base for a group of writers who became known as the Dymock Poets. The group, which included Rupert Brooke, Wilfred Gibson, Edward Thomas and Lascelles Abercrombie, and was later joined by Robert Frost, sent out its New Numbers poetry magazine from Dymock's tiny post office, and it was also from here that Brooke published his War Sonnets, including The Soldier (If I should die, think only this of me…). Brooke and Thomas died in the War, which led to the dissolution of the group. Two circular walks from Dymock, take in places associated with the poets.  www.dymockpoets.org.uk
Hereford and Gloucester Canal - Ran through Newent and Dymock and part can be seen at the end of Newent Lake.  Most of the canal was filled in during construction of "The Daffodil" railway line. However some parts can still be seen and are being restored, as at Oxenhall.   www.h-g-canal.org.uk
Oxenhall Tunnel and the "Legger's Rest" Oxenhall lies between Ledbury and Newent, not far south of the M50 motorway.  This section of the Hereford and Gloucester Canal is of  particular interest, featuring a tunnel, a length of branch canal, a series of locks, an original and unaltered lock keepers cottage and an aqueduct , all within a short distance.   At the north end of the section is the south portal of the Oxenhall Tunnel.  The tunnel, completed in 1798, extends northwards 2192 yards from here towards Ledbury, and passes under the M50 motorway, constructed between 1958 and 1960, and a high pressure gas transmission pipeline, constructed more recently in 2008.  Immediately south of the tunnel is the "Legger's Rest", a unique, arched recess built into the bank alongside the tunnel portal, where, history has it, the gang of men retained to assist passage of narrow boats through the tunnel, would await their next job.
 Redmarley D'Abitot (Redmarley) is a rural parish and village in the Forest of Dean district, Gloucestershire, South West England. In addition to the village of Redmarley, the parish also includes the settlements of Lowbands, Haw Cross, Playley Green, Kings Green, Durbridge, and sits in a corner of the county closely bounded by Herefordshire and Worcestershire.  Redmarley enjoys a remarkable history dating back to pre-Norman times – it was a battlefield for a Civil War encounter during the siege of Gloucester, the Chartist Movement built a settlement here (Lowbands), and it's also home to a number of unique buildings.  www.redmarley.org.uk
The name Redmarley comes from 'woodland clearing with a reedy pond', from the Old English words hrëod and lëah. An alternative cod-derivation has been suggested as from the local red heavy clay or marl. The difficulty with this explanation is that the word marl entered the language many centuries later. D'Abitot is thought to come from Urse d'Abetot, who was Sheriff of Worcestershire and who held the manor in 1086.
Sometimes a circumflex is placed on the 'o' of d'Abitot, but this usage has been criticised. As Eric Warde says: "It is to be regretted that the Gloucestershire County Council placed a circumflex in the signs on the A417. This is emphatically incorrect, both historically and linguistically, Abitot is a word of (Germanic) Anglo-Saxon origin."  In 1886, at the time of her engagement to the composer Edward Elgar, Alice Roberts was living with her widowed mother Julia, at Hazeldine House in Redmarley.
Links to other area :-
http://uptonbishop.org/
http://www.lintonvillage.com/
http://astoningham.wixsite.com/village
 www.taynton.btinternet.co.uk
For details of other attractions in the Area:
www.wyedeantourism.co.uk
Images courtesy of Forest of Dean Tourism and yourlocalshop