All you need to know about Newent and the surrounding area.   Attractions, Events, Shops, Food and Drink, Places to stay and History

 Newent Market House Heritage Display 2017 –  open 1.30 – 4.00pm Saturdays and Sundays.
See 3000 years of history.
Groups visits available – contact Ginny James 01531 821904 or Town Clerk 01531 820638.                   
The Secret Gallery in The Shambles is excited to be hosting the farOpen (Forest and Rivers) Open Studios Taster Show, and have expanded upstairs especially for this event!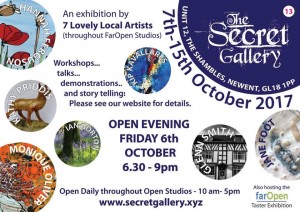 Come and enjoy samples of work by many of the wonderful artists who will be opening their studios this october, come and pick up a brochure and plan your route!  A beautiful selection by 7 Lovely Local Artists, part of the farOpen Open Studios… (Venue 13) co-insiding with the FarOpen Taster Show
Jane Foot, Monique Oliver, Ian Gorton, Glenn Smith, Kip Kavallares, Kathy Priddis and Hannah Ferguson…  Open Daily: 10am-5pm     GL18 1PP

10.30 – 12.30 Every Wednesday