Sunday 10th June
Cinderford Band
Bring a chair or rug
and enjoy Newent
Park and the
tunes of the Band 

The Community Café at 36 Broad St, Newent, is now open every Monday to Thursday- It will be opening regularly to offer a warm welcome to everyone – individuals and groups, families, friends and carers .
For a relaxed environment where anyone can sit and read, play pool or chat while having a snack.  Coffee and Tea, Cakes and Biscuits, Beans on Toast etc. will be available for a small charge – Fairtrade products  on sale
Newent Market House  is open.  See the town history and life display – Saturdays and Sundays  between 1.30 and 4pm.  (except Onion Fayre weekend)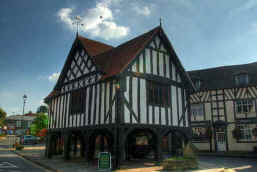 No Entrance fee.   By arrangement can be opened for groups at other times  
For further details contact Ginny James 01531 821904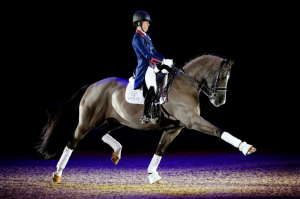 Our quest is to have a beautiful life size statue of Valegro in our town so people remember this one in a million horse forever. If anyone would like to support our campaign and make this a reality, please see the link :- http://www.charlottedujardin.co.uk/valegro-the-sculpture/  
The Project was launched on November 2017   https://www.youtube.com This unique and special horse will have a very special place where he can 'dance' and inspire local people and visitors forever.
To celebrate every Team GB London Olympic Gold Medals, Royal Mail painted some of its red post boxes gold in the Olympic Gold Medalist's home towns.  One can be found in Newent, outside the Post Office to celebrate Charlotte Dujardin winning Olympic Gold in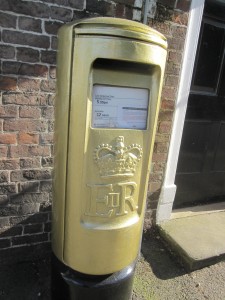 the individual equestrian dressage event on her horse Valegro. She also won a Gold as a member of the team dressage event.  Charlotte who lives and trains in Newent also appeared on specially made stamps commemorating the achievements of our gold medal winning Olympians.
Charlotte Dujardin became the second British woman to win three Olympic gold medals by retaining her individual dressage title in Rio 2016 again on Valegro .
Payments can me sent to Newent Initiative Trust,  Alland,  Botloes Green, Newent, Glos, GL18 1DW or contact Newent Initative Trust – newentcc@gmail.com