All about Newent and the surrounding area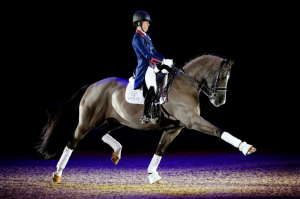 The quest is to have a beautiful statue of Valegro in our town. People can then remember this one in a million horse forever. If anyone would like to support our campaign and make this a reality, please see the link https://www.newentvalegrosculpture.co.uk  or:- https://www.facebook.com/valegrothedancinghorse
The Project was launched on November 2017   https://www.youtube.com This unique and special horse will have a very special place where he can 'dance' and inspire local people and visitors forever. See Facebook page for updates on the plan to put a statue up of Valegro in Newent, his home town. This horse, Carl Hester and Charlotte du Jardin have done so much for Dressage and particularly for UK Dressage that we really wanted to have a long term thank you and memory of him.
Originally it was to be a full-sized statue, but in consultation with Carl and Charlotte and one of the artists it was decided that a half sized statue similar to those at Cheltenham race course would be more suitable.
The artist has been chosen, she is Georgie Welch. Preliminary sketches done and now we are in the serious business of raising the funds to succeed.  Valegro will be portrayed plaited and wearing his tack. Which movement he does – extended trot – passage – piaffe – has not been decided yet, but we will follow the artist as the work is done. If you would like to help with this exciting project, please contact us through Facebook  https://www.facebook.com/valegrothedancinghorse
To celebrate every Team GB London Olympic Gold Medals, Royal Mail painted some of its red post boxes gold in the Olympic Gold Medalist's home towns.  One can be found in Newent, outside the Post Office to celebrate Charlotte Dujardin winning Olympic Gold in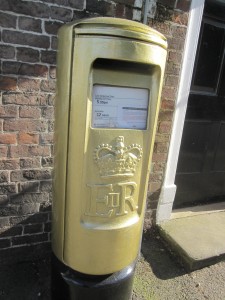 the individual equestrian dressage event on her horse Valegro. She also won a Gold as a member of the team dressage event.  Charlotte who lives and trains in Newent also appeared on specially made stamps commemorating the achievements of our gold medal winning Olympians.
Charlotte Dujardin became the second British woman to win three Olympic gold medals by retaining her individual dressage title in Rio 2016 again on Valegro .
Donations can me sent to Newent Initiative Trust,  Alland,  Botloes Green, Newent, Glos, GL18 1DW or contact Newent Initiative Trust – newentcc@gmail.com